In November 2013, Typhoon Haiyan lays waste to the province of Leyte, in the East of the Philippines. The day following the catastrophe, the director of the Tacloban prison lets the prisoners out to rejoin their families. The only condition is that they go back to the prison at a specific date, or else be chased and killed. Religious fanatics, criminals and opportunists suddenly swamp the city's streets. Miguel, a young 20-year-old prisoner, goes to look for his fiancée Andrea and his mother Norma in the hope of convincing them to flee the city and rebuild their lives elsewhere. Their reunion, which will reveal the reasons for his incarceration, would be brief and full of obstacles, as a new typhoon is looming…
With Whether the Weather is Fine, project he also developed at the TorinoFilmLab, Carlo hopes to examine the cultural and religious complexities of developing regions, such as Tacoblan, and wishes to question the role of religion and belief in myths and destiny, by following characters that are fighting for their lives and are motivated only by hope.
The film is selected at Locarno Film Festival in the section Concorso Cineasti del presente.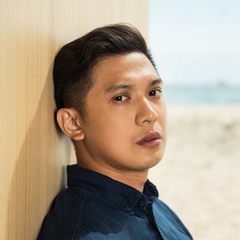 Director
Next Step 4th session
See director