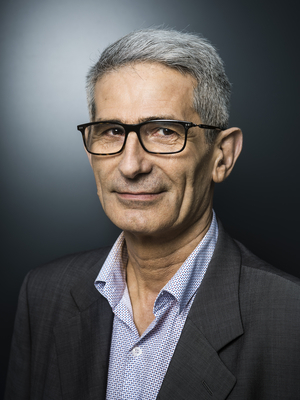 Charles Tesson
Artistic director
As film critic, Charles Tesson wrote several important books on cinema and he is a senior lecturer in Film History and Aesthetics at La Sorbonne Nouvelle (paris III). He has wrote for many years for Les Cahiers du Cinéma, where he was the editor-in-chief from 1998 to 2003. He entered the Selection Committee of La Semaine de la Critique for the 49th and 50th editions, before becoming its Artistic Director in April 2011. He is also the President of the Aide aux Cinéma du Monde commission (CNC, French Institute) from 2016.
Feature films
Danielle Attali

Journalist and film critic, Danielle Attali has been the head of the cultural department with Journal du Dimanche for over twenty years. Jury member for "Aide à la realisation" of the Gan Foundation in 2014, she covered more than thirty editions of the Cannes Film Festival. She was a co-writer of the book on the 70th anniversary of the Cannes Film Festival in 2017 (Edition Stock). Since 2017 she works as an independent critic and devotes herself to writing.

Ava Cahen

Lecturer at the Nanterre University and intervener at Le Cercle on Canal+ Cinéma channel, Ava joined the editorial team of Clap! in 2011 and became the co-chief editor in 2012. She actively took part in the creation of the magazine associated with the website and became the editor-in-chief in May 2015. Her first essay on Woody Allen was published in November 2015 (Archipel Publishing House). In 2017, Ava takes part in creating the website Frenchmania, and acts as Editor in Chief. In November she also published the book, Cheforama (Nouriturfu publications). Her third work, an essay about the TV show Game of Thrones will be published in March 2019 (Du Rocher publications).

Bruno Deruisseau


As he was doing his master's degree in filmmaking at the University Paris I Panthéon-Sorbonne, Bruno starts writing for Les Inrockuptibles, first starting as an intern. Once he graduated, he became a member of Arte Cinema reading committee while still writing for Les Inrockuptibles where he also writes on series and theatre, and then cinema. He also teaches film criticism at the University of Strasbourg.

Clémentine Dramani-Issifou


She cofounded the Africadoc nonprofit in Benin and, between 2011 and 2016, kickstarted the Festival des Nouveaux Cinémas Documentaires (the New Film Documentaries Festival) which spans across several continents. While researching her Ph.D. she created ä f r o t o p i ä. As an author and critic, she's written in the Mediapart blog, Something we Africans got, Africultures…She's a regular guest at scientific conventions in France and abroad.

Olivier Pélisson


He has collaborated with Zurban magazine, Monsieurcinéma.com, DvdLive, LeCinémadanslesyeux.com as a journalist and film critic. He is now working for Bande à Part web magazine and Bref.

Courts métrages
Léo Soesanto
Coordinateur

Journalist and film critic, Léo has collaborated among others with Libération, Les Inrockuptibles or Premiere. He is the head programmer of the International Festival of Independent Films in Bordeaux since its creation in 2012. Since 2016, he is also a programmer for feature film at The Rotterdam Film Festival. At La Semaine de la Critique, he was a member of the selection committee for feature films for six editions (2009-2011, 2013-2015).

Thomas Fouet

He is a journalist for Fiches du cinéma; assistant editor for Capsules. Co-founder and former editor-in-chief of the online magazine Cinématraque. Jury member for the Short Film prize awarded by the French Union of Film Critics.

William Le Personnic


William Le Personnic is a contributor at Brefcinéma and the monthly magazine Positif. He is currently involved in a non-profit organisation to champion short films.


Nanako Tsukidate


Nakano Tsukidate is a film critic and journalist, working primarily for Japan's Nobody Magazine. She is also a programmer for Hiroshima International Festival, where she deals specifically with European cinema. She has organised several retrospectives around French cinema, for instance screening films produced by Diagonale, Henri Langlois, Mai 68 and the Zanzibar group. She also collaborated with T-Mobile New Horizons International Festival for a Philippe Garrel retrospective in 2015.