Forging new desires
Welcoming and supporting the films we've selected, year after year, is the very essence of our work at La Semaine de la Critique; welcoming the teams on stage, setting up the singular conditions of a shared moment in a movie theatre with those who are going to give life to the films – critics, professionals, festival programmers – and to see them soar. Let's not forget word-of-mouth, yet another thing that makes a festival a unique event, a breeding ground for desires: films that everyone talks about and that you want to see, having heard so much about them. As this cannot take place, and the doors of the renovated Miramar cinema remain closed (they will be open next year for our 60th edition), we kept on watching films. And dealing with these new circumstances, we struck a conversation with the professional teams of the films that had caught our attention (producers, distributors, sellers). Through this patient, constructive dialogue - attentive to our partners' needs - in a context where decisions are grueling (given the dates on which shooting may resume for the films to come, and the specifications future festivals will have to meet) we decided to favour French films that were scheduled to be released in France before the next Cannes festival. As for the various foreign films that grabbed our attention - many of which don't have a French distributor nor international sellers yet - most preferred to wait for festivals that could take place under usual circumstances, including the next Cannes edition. It is quite understandable since these films, which were unknown until now, direly need the dark theatres for their work to shine bright.
In contrast with our usual 11-film selection, this "Off-premise" programme supports 5 films for which we wish to take on an actual editorial role, especially during theatrical releases. This assistance is the opportunity for us to assist films differently, to encourage them to blossom among those who thirst for them: the audience.
What are the films? What do they tell us about this peculiar edition?
De l'or pour les Chiens (Gold for Dogs), French director Anna Cazenave Cambet's first film radiates, it glows; between light and darkness, it follows the journey of a young woman, Esther, left to her own devices in her longing for the other. After taking these various roads that lead her astray, she could say: what a long, winding road it has been towards myself. This body - this physical entity - carnal, sensual, love and sex-crazed, dependent on this other, oscillates somewhere between adulation and disillusion until she is enthralled by a woman who's made a vow of silence. Tallullah Cassavetti embodies an impressively genuine Esther alongside the excellent Ana Neborac.
Sous le Ciel d'Alice (Skies of Lebanon), French director Chloe Mazlo's first film looks at love under different skies, different lands: Lebanon during the first war (1975-1977). Love rimes with exile, with the daily life of a mixed couple, where a young Swiss woman (the supreme Alba Rohrwacher, who calls to mind female leads the likes of which Marguerite Duras and Chantal Akerman were particularly fond) is in love with a Lebanese man (Wajdi Mouawad), a peculiar hero, very much attached to his country. The-mise-en-scène of Sous le Ciel d'Alice is wildly ingenious and truly subtle. Blending animation and live action, it gives us an enticing taste of the outdated, eccentric imaginary world of postcards (the cedar-woman of Lebanon). The poetic elegance of the film, rooted in its political reality and focused on a family home – a metaphor for the country and shot as a doll's house - is a conduit for a beautiful, heart-breaking love story, experienced through Alice's fragility and sensitivity.
What on Earth happens in After Love, Pakistani-born British director Aleem Khan's first film? Contrasting with the realism of British cinema, the film pursues the unambiguous storyline of a beautiful melodrama: a double-edged family drama. What comes "After love", from the wonderful opening sequence, is utter collapse. A life collapses, like a cliff smashing to the ground. This fall broadens the perspective of the female lead - Mary - to a reality she's quite unaware of: another life, another country, another home, another woman. Through the looking-glass, Mary discovers elsewhere the life she has wanted but never experienced. The film joins Joanna Scanlan's powerful acting and ever talented Nathalie Richard.
With La Terre des hommes (Beasts), French director Naël Marandin's second feature, takes it to the next level after She Walks (2015). The film depicts the basest aspects of love, it is the negation of love itself through the story of a common man who abuses his power to abuse sexually. The title delves us in the midst of an agricultural community, in a world that proves most violent: cattle ranching. A young farmer couple designs a new project that requires political and economic support. The story is wonderfully told, the strong characters are played by very fine actors: Jalil Lespert, Olivier Gourmet, Finnegan Oldfied, Sophie Cattani. One of them stands out particularly, Constance, portrayed by the marvelous Diane Rouxel.
La Nuée, French director, Just Philippot's first film, builds on a very recognizable film genre (the fear of animal invasions, inspired by The Birds) and adds another storyline, that of a young woman. Single mother of two, she retrains in breeding locusts, the food of the future - for humans and cattle alike - as it is full of proteins. Facing pending doom where locusts will not disappoint, La Nuée depicts an equally worrisome social reality rooted in our economic system: the overproduction rat-race - for our survival - which begets a toxic dependence on work and turns our daily routine into a terrifying nightmare.
We are proud and delighted to support these films and, through them, encourage audiences to enjoy cinema and discovering new horizons.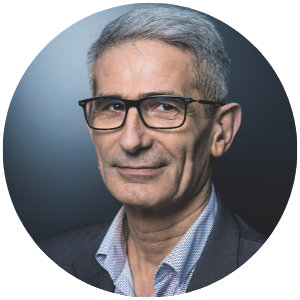 Charles Tesson
Artisitic Director